The Utilization of Digital Technologies—Beginning from Our Daily Lives
Interviewer
Thank you for your time today.
Lately, there have been significant advancements in "Healthcare Information and Communications Technology (ICT)," which makes use of ICT for the field of medicine. There have also been major advancements in general healthcare technology (Health Tech). What kind of changes do you expect to see at Philips Electronics Japan (hereafter referred to as Philips) in the coming years related to these newly emerging services and changes in society?
---
The role of "people" in the use of advanced technology
Hiroyuki Tsutsumi
As life expectancies have increased, people have started to talk about the concept of a "Healthy Life Expectancy (HLE)." The difference between life expectancy and HLE is that when we talk about life expectancy, technically, someone can be alive but not healthy. I think we must work toward ways to realize "healthy longevity." This is desired by many people, and can be achieved through the use of ICT and digital technology.
At Philips, we tend to focus on ICT and digital technology solutions, but technology will not necessarily solve all our problems over the long term. Digital technology can provide healthcare professionals with information they need to accelerate decision-making processes. Rapid decision-making can enhance the productivity of healthcare workers and increase the value of healthcare services that patients and society benefit from. However, we should bear in mind in any medical situation, the final decisions are made by doctors. In that sense, how advanced technology is used is still heavily reliant on the people who use it.
In light of the current issues faced by Japan, such as the declining birthrate, the aging of the Japanese population, urbanization, and depopulation in rural areas in particular, Health Tech solutions are likely to become crucial for the businesses of many companies. As companies move to explore solutions through collaborative efforts with diverse players such as patients, doctors and hospital managers, companies should create projects that consider not only "corporate values" but also "individual values."
Hiroyuki Tsutsumi
The number of patients in the Japanese healthcare system is expected to continue to increase as the population ages. It is essential that Japan strengthen lifestyle-focused measures aimed at reducing the number of people who become sick. In other words, we must prevent healthy people from getting sick. That is why Philips uses an integrated approach for our Health Tech business that we call the "healthcare continuum." Philips is pursuing projects in many parts of the healthcare continuum, including healthy lifestyles, prevention, diagnosis, treatment, and home care.
---
Interviewer
What kind of prevention-focused activities are you currently doing?
---
Hiroyuki Tsutsumi
Philips has developed a product that links our Sonicare electric toothbrushes to a smartphone app. The app in turn creates a database summarizing the person's daily habits related to tooth brushing to enable them to keep track of their oral health. We need to accumulate evidence and invest in services that protect against illness.
Oral care is widely considered to be an effective intervention against potential illnesses that can be initiated immediately and is easy to understand for most people. In Japan, we find that although many people are highly health conscious, that does not necessarily lead to actual behavioral changes.
---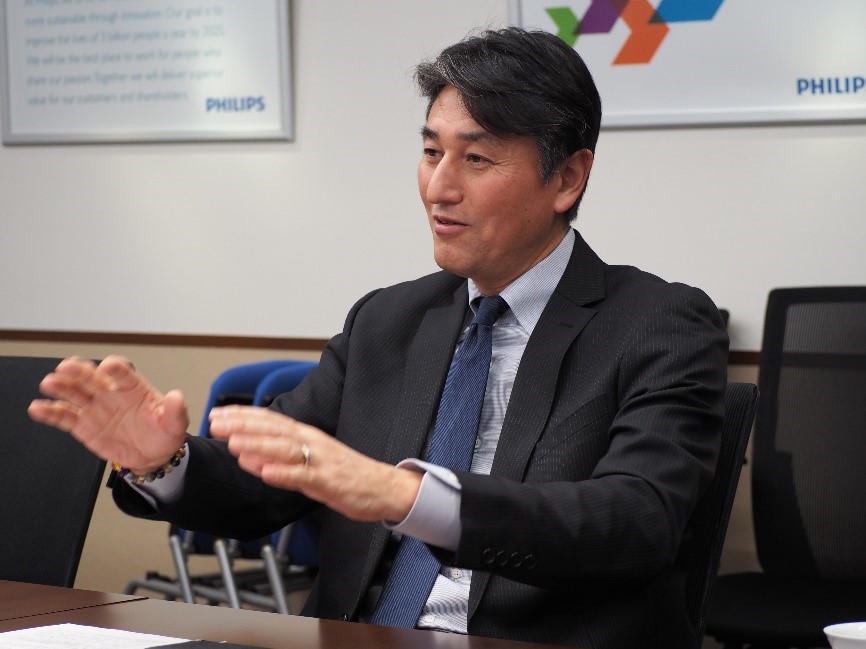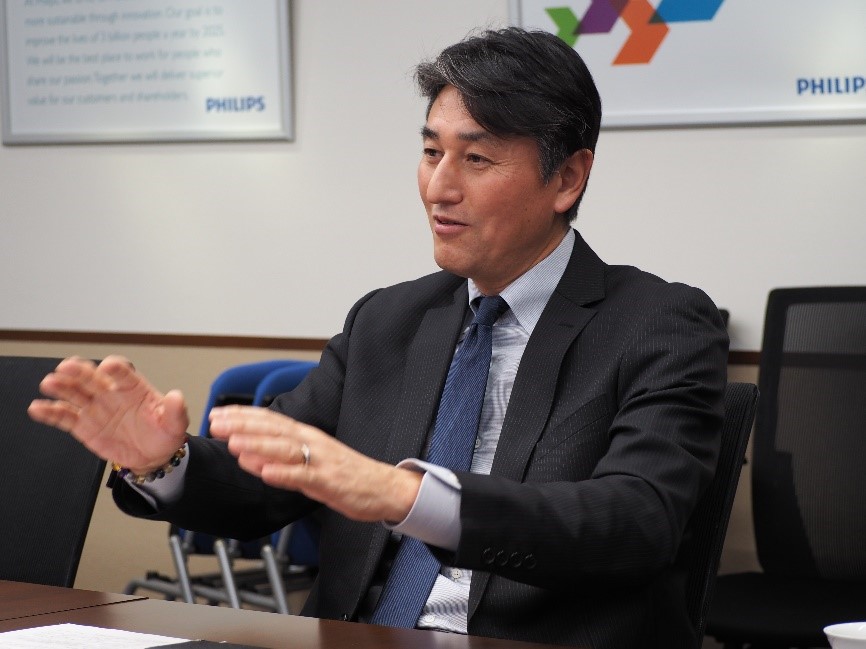 © Health and Global Policy Institute
There are a certain number of people who do not receive regular medical checkups, even among company employees (regular employees in Japan are entitled to one health check-up per year courtesy of their employer). There are also many people who have high levels of awareness about health but do not necessarily know how to improve their health. Oral care is one of the easiest activities that such people can do.
At Philips, we distributed electric toothbrushes to nursing homes, and then conducted a follow-up survey to investigate the impact of that initiative. We found that the toothbrushes: 1) Reduced the burden of tooth brushing for elderly people and their caregivers, and prevented unexpected accidents such as when elderly people unintentionally bite the hands of the caregivers brushing their teeth; 2) Reduced the number of residents who contract pneumonia due to insufficient oral care; and 3) Promoted a decline in the mortality rate at the participating care homes thanks to the reduction in the incidence of pneumonia.
We hope evidence like this will motivate people in the public sector to offer financial support for interventions like this.
---
Interviewer
In order to mobilize public funds, it is critical to gain understanding and support from policy makers who are directly involved in decision-making about funding. However, some of them may still see this issue as nothing more than "just tooth brushing." Do you think that the spread of devices that can collect data will be the key to changing such mindsets among policy makers?
---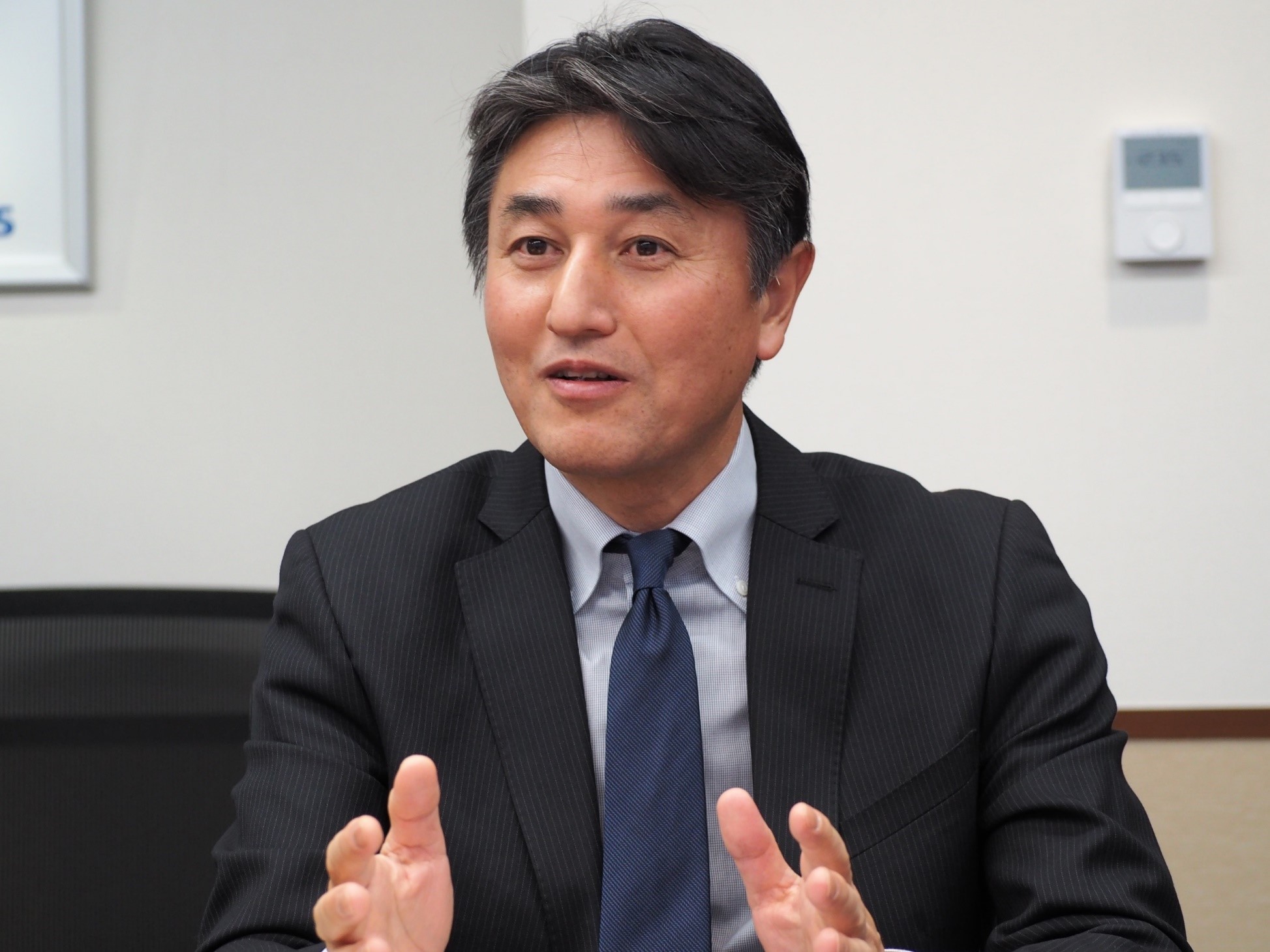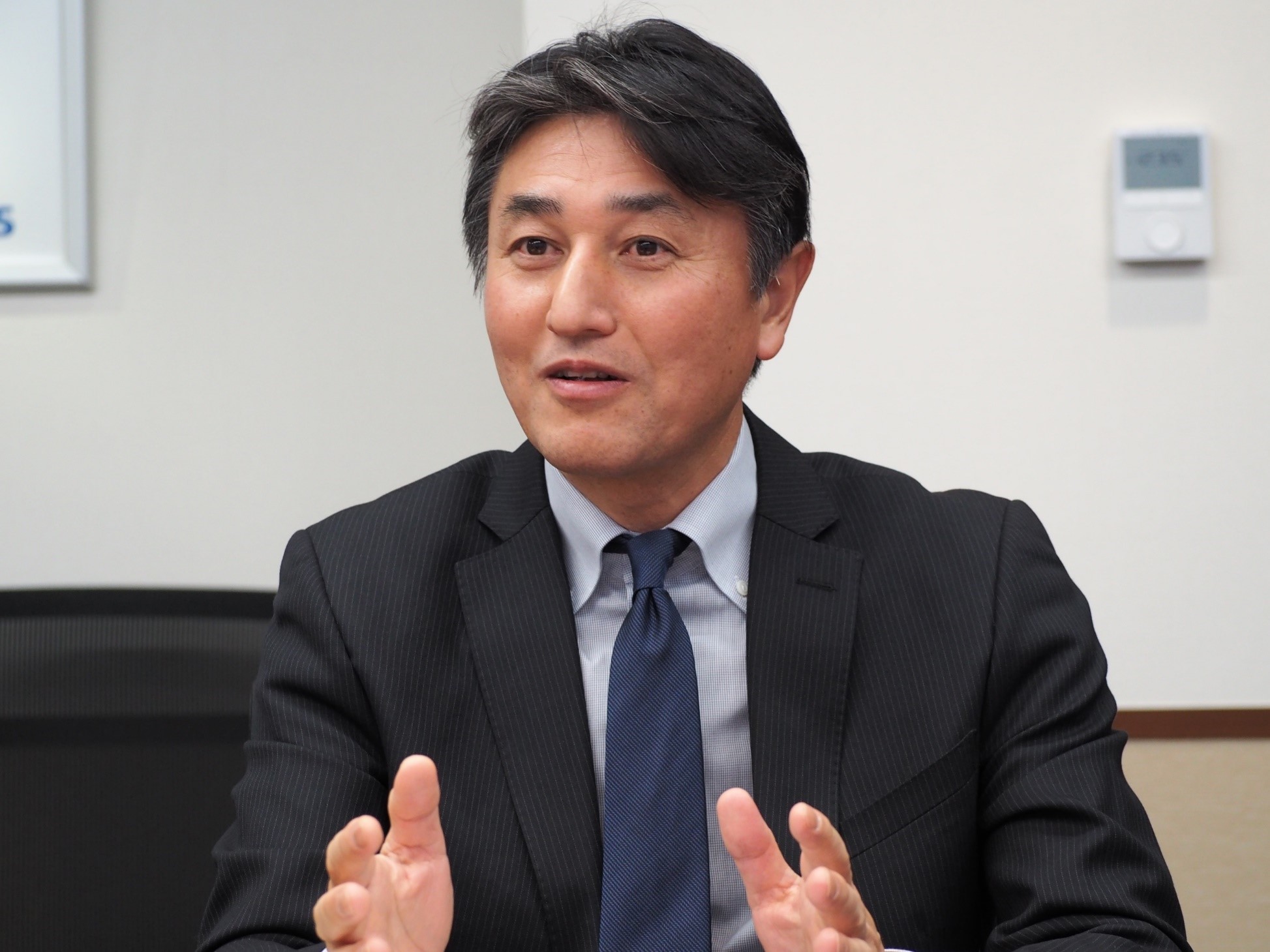 © Health and Global Policy Institute
Hiroyuki Tsutsumi
There has been clear evidence showing the positive impact of oral care on health. However, we need to be cautious in the way we communicate this message to avoid misunderstandings. We need to find effective ways to change the mindset that people have from thinking we are talking about "just brushing" to understanding what we mean by "oral care."
I do not want people to misunderstand and think that becoming healthy through oral care is difficult, as much of the evidence on the way that it promotes health is complicated. We need to start from simple activities that are easy to understand and work on.
Some of the data suggest that the healthy life expectancy in Japan may increase by a certain period of time thanks to improved oral care. It is our duty as a company to make a positive impact on society based on our track record of improving health indicators through oral care, particularly focused on regions performing poorly on health indicators.
Creating a system for behavior change and a Health Suite Digital Platform
Hiroyuki Tsutsumi
We aim to communicate the positive impact of daily oral care for maintaining health, as well as the health risks posed by a lack of or insufficient brushing. Behavior modification is a cornerstone of our activities. It is crucial that we establish a system that can effectively encourage behavior change among people by helping them become aware of this issue, and concerned about it.
In order to scale up the activities conducted at nursing homes that I mentioned earlier, we need to seek out individual case studies to build evidence and share that information throughout society. To that end, Philips has introduced a new data-mining and open cloud system called the "Health Suite Digital Platform (HSDP)." This system can be used as a tool to share data.
---
Interviewer
Could you tell us about the future of Health Tech?
---
Hiroyuki Tsutsumi
Philips aims to provide solutions to social problems. We are in the process of enhancing projects mainly focusing on the following four areas: 1) Oncology (Cancer); 2) Cardiology (heart disease); 3) Radiology; and 4) Respiratory Medicine. We are making partial improvements to our projects in these areas right now, and we plan to carry out comprehensive reforms over the long-term. We aim to establish models that can provide customers with essential and user-friendly services.
In the Oncology area, for instance, we are implementing an initiative that we call "First Time Right." This initiative aims to ensure that people are correctly diagnosed during their first examination. This can help people to avoid needing to receive repetitive examinations, such as multiple CT or MRI examinations, which can help people to save time, and improve the efficiency of the medical field. This is an application of a revolutionary technology that can provide highly precise diagnoses without the need for an MRI, reducing the burden placed on both patients and doctors.
In terms of Radiology, currently, the interpretation of images from MRI or CT scans is being done at various places including hospitals, clinics, or some laboratory centers. There is potential for improvements to be made to the efficiency of the interpretation process. By digitizing images, sharing images using ICT, and making use of the latest techniques, we hope to make the interpretation process more efficient for patients, doctors, and hospitals.
---
Interviewer
Could you tell us about what you feel the issues of the current healthcare systems are?
---
Technology to address healthcare system challenges
Hiroyuki Tsutsumi
In the current healthcare system in Japan, in principle, reimbursements are awarded based on the amount of services provided. With this system, it is difficult to provide incentives towards health outcomes when evaluating the effects of a treatment. In addition, information sharing among healthcare facilities is still insufficient, resulting in redundancies in treatment, with patients being forced to take same examinations anytime they visit a new hospital. This is a major social issue. We need to transform the healthcare system to put more emphasis on outcomes.
Technology developments have significantly shortened timeframes. Scientific evidence can now be gathered very quickly compared to the past. Particularly with chronic conditions, such as diabetes or heart diseases, hospital visits alone are not enough to alleviate these diseases. It is crucial that patient data be assessed on a daily basis.
Continuous Positive Airway Pressure (CPAP) machines highlight the importance of daily data collection. CPAP machines are used for the treatment of sleep apnea. They help patients breath as they sleep. The ability of these machines to collect data in a home setting, rather than a hospital, made it possible to conduct more accurate assessments on whether a patient has sleep apnea or not.
In addition to the treatment itself, CPAP machines also facilitate communication between doctors and patients. Some patients stop using CPAP machines within 3-4 months of initiation, mainly due to the discomforts of wearing the device while sleeping. As a result, treatment ends with no effect for approximately 40% of patients. When CPAP machines visualize the effect of treatment, it allows patients to see for themselves how they are progressing, which helps them sustain their motivation, and consequently decreases the dropout rate and improves patient adherence to the therapy.
On the other hand, there is an issue related to handling patient data when providing this kind of service. There are no clear guidelines on whether data should be managed by individual health facilities, which may be siloed off from other health facilities, by individual patients, which is the way it is done with CPAP machines. Careful discussions should be held among all stakeholders in order to develop guidelines and manuals on how to handle medical information. We need to continue planning ways to manage medical information, including whether to place it in the cloud, and ways to handle digitized data.
---
Interviewer
As you mentioned, there is a need to consider ways to handle the patient data obtained from advanced healthcare ICT services. The management of medical data is no longer just an issue related to online consultations, but also a problem in an era when the data collected every day might be used for treatment.
---
The role of the private sector in the promotion of preventative medicine
Hiroyuki Tsutsumi
The healthcare environment is not limited to hospitals or homes. We need to remember that people spend a lot of time at their workplaces or companies. In the future, it will be critical for companies to focus more on preventive care and the health of individuals.
For example, a lack of sleep among employees can have a negative impact on a company. By allowing employees to sleep for sufficient amounts of time, we could improve work performance and consequently the overall productivity of the company. In the past, if you saw someone sleeping at work, you would usually wake them up. However, we must now think carefully about how to respond to such cases, and consider the possibility of health problems such as sleep disorders. The creation of a friendly working environment will be even more important in the future for companies as well to survive in the marketplace.
---
Interviewer
In terms of international competition, what would you suggest for Japan's healthcare ICT field, and what policies do you think Japan should focus on in order to make future contributions to the world?
---
Global vs. domestic interventions
Hiroyuki Tsutsumi
Essentially, the problems of Japan are new issues all around the world. These are issues for which no solution has been found anywhere. Therefore, we believe that finding a healthcare solution to these problems can also help to resolve global issues outside of Japan. That will be our contribution to the international community.
Recently, we see a trend throughout the world where companies are moving away from product-out, product-centric approaches. Regardless of all of that, Phillips aims at all times to be a solution provider. We are taking advantage of the challenges Japan is facing as an aging society to develop solutions that can be used all around the world.
Although Philips is a foreign company, our mindset, way of thinking, and corporate culture are similar to domestic companies. We actively learn from global good practices and apply them to the benefit of patients, doctors, and the Japanese public. We are working to spread good practices made in Japan to the rest of the world.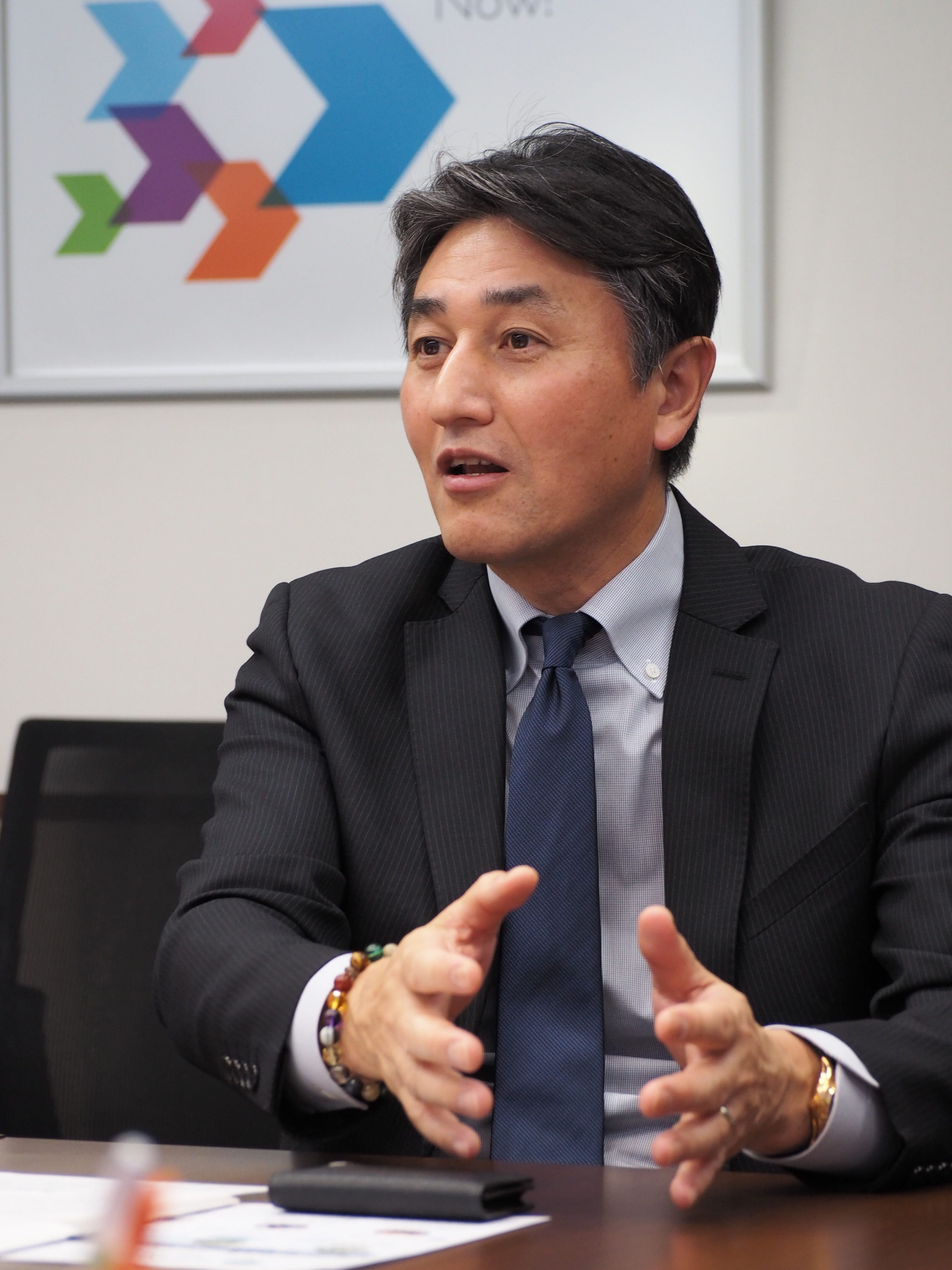 © Health and Global Policy Institute
The future of healthcare can only be realized if we work together while focusing on what is happening in the real world, in people's actual lives. True solutions will not be found if we just focus on healthcare ICT, including areas such as Big Data and telemedicine. As the field of ICT evolves, I think people will want to see more human warmth and humanity in their ICT. When promoting the use of ICT, we tend to overlook aspects such as those, but companies like us must make sure to bear that in mind.
Philips wants to pioneer new initiatives in the future, by implementing our own healthcare projects, including for productivity revolutions, and by creating platforms, among other measures. Ecosystems will be very important to us moving forward – there will be more need for companies to partner with each other to tackle issues that they cannot solve by themselves. I believe that such partnerships and ecosystems will be indispensable in creating the future of the healthcare industry.